Santiago de Compostela Airport
Check here for all the information about the Duty Free pick up points at the Santiago de Compostela Airport. If you are traveling through the Galician capital's airport and still don't know about the benefits of the exclusive Reserve & Collect service of the tax free shops, we invite you to discover all its advantages. On this page you will find everything related to our Pick up Point in Santiago de Compostela.
The Reserve & Collect service gives you the possibility to access the Santiago de Compostela Duty Free catalog from the comfort of your home. Once you take a look at our online catalog and confirm the products you wish to purchase, you can quickly and comfortably pick up your purchases at our airport stores on the day of your flight. The order will be ready to be paid and collected up to two hours before your departure: a convenient and easy method for you to save time and money as you pass through one of the airports in northern Spain that receives the most passengers.
Our Pick up Point in Santiago de Compostela is located inside the Duty Free store, which you will locate in the departures area of the airport, past the security checkpoint. If you have any problem when trying to locate the collection area or to finalize your Reserve & Collect order, the employees of our stores will be happy to help you with whatever you need.
In conclusion, do not miss the opportunity to buy tax free products in Galicia and take advantage of the convenience of being able to place your order online from home through the Duty Free Santiago de Compostela website. Place your order today and pick it up at the airport when it's your time to fly!
PP

Pick up Points (1)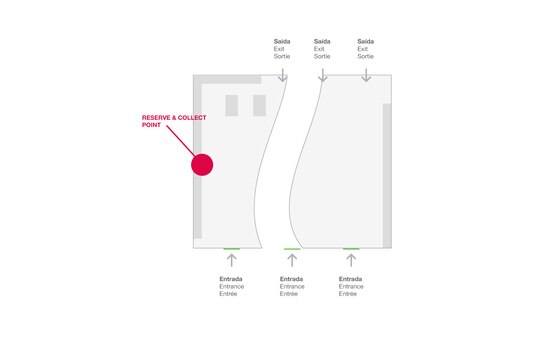 The Shop
---
Your goods will be ready for pick up 2 hours before the departure of the flight.
You can also do additional shopping while in store.
---
Any questions? Find your answers in: How does the service work? and FAQs.
---